Fortis Garden Residences - LOCATION
The location of Fortis Garden Residences is one of the highlights of this development. As with any real estate investing, location is always the most important consideration. When it comes to this development by DMCI Homes, you will get your money's worth because Makati City is one of the most coveted places for real estate in the country. The fact that you can get your own condominium unit for PhP 2 million is an opportunity that cannot be missed.
Makati City is a top choice of place to live for the urbanites or city dwellers. It is also a coveted business address for many because some of the top corporate organizations (from various industries) are headquartered in Makati. You can therefore enjoy the convenience and accessibility of being close to your place of work, school, commercial, and lifestyle destinations if you live in Makati. Whether it is business or recreation you seek, you will find them in one place.
As mentioned earlier, Fortis Garden Residences is located along Chino Roces Avenue in Makati. This is just a few minutes away from EDSA, which is one of the major highways in Metro Manila. It will also provide you access to other points in Metro Manila. In addition, it is also close to the MRT Magallanes Station, which is convenient for the commuters. Another major transportation hub that is close to the condominium tower is the Ninoy Aquino International Airport. 
For business professionals, you can live in Fortis Garden Residences and be close to your place of work. The following business districts are within close distance to the condominium development: Makati Business District, McKinley Hills, Ortigas Business Center, Alabang Business Center, and Bonifacio Global City. Aside from business, there are also several notable health and medical institutions in the area. For your family's health needs, you can turn to any of the following: Ospital ng Makati, St. Luke's Medical Center BGC, and Makati Medical Center. 
For the families moving into Fortis Garden Residences, you will also be quite thrilled to find a wide array of schools and universities in Makati. Your options for the best schools in the area include Colegio San Agustin, Assumption College, MAPUA Makati, Asia Pacific College, and Don Bosco Technical School. 
With the schools and businesses aside, you will be thrilled with the lifestyle options available within the Makati area too (some within minutes from Fortis Garden Residences). Therefore, you can indulge in the many opportunities for fun and recreation to suit your lifestyle. If you enjoy playing golf, there are two major golf clubs in the area: Manila Golf Club and Villamor Golf Course. Shopping is also quite easy with many malls and shopping centers near Chino Roces Avenue namely Bonifacio Global City, Glorietta, Rockwell, and Greenbelt. Or, if you want to indulge in your cravings for great food, you will also have plenty to choose from near Fortis Garden Residences like Izakaya Kikufuji, Terry's Bistro, Toyo Eatery, M Dining + Bar M, Txanton, and Prime 101, among many other options to choose from.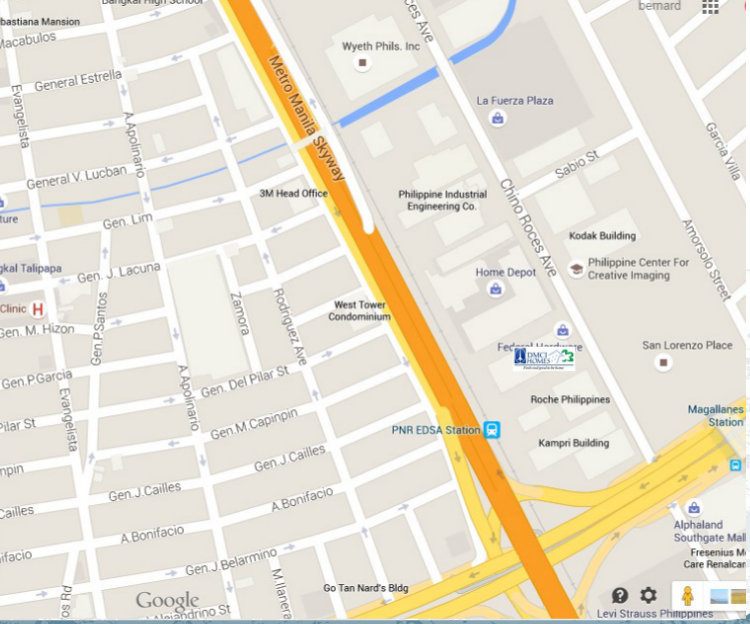 From within the grounds of Fortis Garden, important commercial establishments, academic institutions, churches and key business points can be easily reached. Three important commercial districts are within easy reach: Rockwell Cntr., Bonifacio Global City (BGC) and Makati Central Business District. The Makati Medical Center can also be reached very easily. The nearest academic institutions are: Asian Institute of Management (AIM), Colegio San Agustin, Assumption College, Don Bosco Technical Institute & AMA Computer College. These are the nearest commercial establishments: Greenbelt, The Landmark, Makati Cinema Square, Home Depot, Paseo de Magallanes and Glorietta. For your Sunday church needs, these are the nearest accessible churches: Greenbelt Chapel, Cathedral of the King, Holy Family Parish Church, San Ildefonso Parish Church, St. John Bosco and others.
Fortis Garden Residences sits on a 4,322sqm of prime property located along Chino Roces Avenue (formerly Pasong Tamo), Makati City. This address is near EDSA, the Magallanes MRT Line 3 Station and a few minutes away from the Central Business District of Makati. Wherever your destination is, the Fortis Garden has a way of arriving to your destination on time.

Makati City is host to the country's world-renowned financial district, which is also home to some of the world's multinational headquarters and where several embassies are located. This city is also the busiest in the metro. Currently, one of the most popular condos in Makati City is DMCI Homes' Fortis Garden Residences, a luxury condominium community without the high price tag.
Makati City is also the favorite destination for a luxury lifestyle where several signature brands could be found. But Makati is also where reputable medical and educational institutions are situated. The city's innovative infrastructures are also top-of-the-line and could rival the best cities in the world. It has various hotels and entertainment centers, giant malls, and shopping centers, while its nightlife is among the most peaceful in the metropolis. The city's bars and restaurants offer the finest diverse cuisine including Filipino, Thai, Vietnamese, Korean, American, and Japanese foods.